Friday we woke up early again, still a couple of hours off from local time. But the weather had improved and it was sunny and beautiful outside. Because we had the ocean view room, we were able to see Mount Fuji before we even left for breakfast. We got really lucky with the weather, because Mt Fuji is shy and can't be seen when it's foggy or rainy. Luckily, the rain and fog burned off just in time for our one day in Shizouaka and we got some great views of the snow-capped mountain. After a buffet breakfast in the hotel, we went out to the observation deck to see Mt Fuji and snap some photos. From the deck there were some mossy stone stairs disappearing into the woods so we went exploring. It turned out to be a nice trail through the woods, with glimpses of Fuji through the trees ending with a shrine (temple?) in the middle of the woods. It was beautiful, and we were happy to get a little walk in after spending a few hours in the car the day before. After our walk, we returned to the onsen for a last dip before checking out of the hotel and heading home with a couple of side trips.
We were still following the Lexis tour guide book, and we ended up driving down some beautiful curvy roads with tea fields and bamboo groves along the way and more views of Fuji-san. We pulled over for a couple of pictures and then kept driving until we arrived at a gondola station.
We bought a couple of Japanese style soft serve ice cream cones, and then tickets for the gondola that took us over a hilly forest and to the grounds of a Shinto/Buddhist temple for Kuno-zan Toshogu. There were lots of stairs leading to the temple, with stone lantern holders and little gates and side-shrines along the way. The temple was much more ornate than those we had seen so far. Past the shrine was Kuno-zan Toshogu's grave and off to the corner was the much-less-embellished grave of his most favorite horse. At the temple there was a big coin box and some instructions for making wishes. We had seen the same thing at the first temple we visited in Nagoya, but we weren't sure what the temple was for, as apparently there are different gods for different things/wishes. Taka said this one was for any kind of wish, so we thew in a couple of coins and clapped and bowed as instructed and wished for the Kelly house to sell (I hope the gods and St. Joseph are working together and not competing on this one) and made a wish for Jon and Taka. After the temple, we stopped by the museum that was on the grounds, and got to see some of Kuno-zan Toshogu's armor, clothes, swords, papers, and other effects.

After a gondola ride back, we stopped for snacks at the gift store, and found special limited edition wasabi flavored white chocolate kit kat bars! Apparently the area is known for growing wasabi, and so of course we had to try the bars. We all thought they were actually quite tasty, but when we brought one back to Taka's mom, she made a frowny face after she bit into it. Apparently it's not quite for everyone. We finished the sweet breads and rolls from the day before and headed back out in the car.
Our next stop was to another town in Shizouaka city, where there was a store called Craft Concert that was like a DWR-meets Frank Lloyd Wright. It was all kinds of simple beautiful wood and other natural material furniture, and if it weren't for the DWR level prices and the tricky bit about getting furniture half way across the world, we could easily have re-decorated our house at that store.
The little town was absolutely beautiful, and had a very peaceful feel. Maybe there really is something to that feng shui thing after all. It felt like we were in a little artist community, because all of the buildings and gardens were so beautiful. We both wished for more time to walked around exploring lots of little shops. We went into a little tea house for tea and coffee, and while the owner was fixing our drinks, she invited us to walk around her garden. Among the sculpted trees, we found a small Koi pond with wires strung here and there about 3 feet over the pond. At first we thought they were meant to provide surfaces for spiders to control unwanted insects as there were several resident spiders along the wire. But it turns out they were to keep the blue herons from grabbing the fish. It seemed like a great idea and we thought briefly about doing the same thing for our pond until I remembered all of the spiders, and decided to research other means of fish protection. The owner at the tea house said that the town was very quiet now after the earthquake, and usually it would be busier. The tea house was made with huge timbers for framing,. We asked the owner and she said that the house was 120 years old, and had such a solid rock foundation that it hardly moved in the last quake.
We also asked her about the amazing trained tree outside that had formed 3/4 of an arch (and turned out to also be the bush post at the corner and the fence line bush all the way down the side of the property), and she said it was 180 years old and her grandfather had started training it. Of course, if it hadn't been for Jon and Taka, we wouldn't have known any of this, so big thanks to them for all of their translating!
Next door was an art gallery, and again we could have happily bought most of the things inside, but money and suitcase space considered, we left with three special items. We got to see the artist at work doing his wood carvings for wood cut prints, and a very friendly woman showed us prints and pottery in the gallery/store.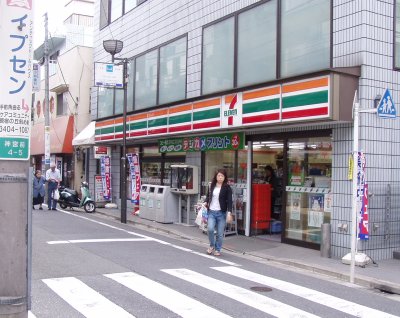 What comes next may be a little hard to swallow for those who know us well. One of the things that we were most looking forward to trying in Japan is food from one of the millions of convenience stores that are all over the country. We had advance notice that the snacks at Japanese gas stations and corner marts are tasty and fresh, unlike in the states. There are a few big brands - Lawson station, circle-K, Family Mart, and of course 7-11. Enter one of these stores and you'll find a myriad of delights including food and drink, without a slurpee in sight. As we had a couple of hours in the car to get home, we stopped at a Family Mart for some snacks. We ended up with a couple of tofu pockets filled with wasabi rice, and an onigiri (rice-ball) filled with seaweed and sweet soy sauce, all for about $5. They were delicious and you could easily make a tasty, healthy meal of gas station snackies. In fact, when Hobbs lived in Japan before he lived on 7-11.
When we got back to Jon and Taka's house, we dropped off our things and picked up Taka's mom and headed out for dinner. We walked to the subway station and took it about 12 stops to Nagoya station, where there was a huge building with shops and restaurants on the first 15 floors, and then hotel up to the 50th floor. We went to a noodle shop and ended up sharing a big bowl of hot udon noodles in broth with egg (hold the fishcakes), and some cold soba noodles with a taro root dipping soup. The udon was good, and the soba was also good, but the taro root dipping sauce was a little slimy for our tastes. We both agreed that the udon was better, although Taka's mom gave us some of her soy sauce based dipping sauce and we liked that much better with the soba noodles. Now we know for next time!
We were all pretty tired from the long day, so once we got home we worked on a couple of blog posts and then hit the hay.
P.S. I hear that the pictures don't link back to Flickr, so we will include the link at the end of each post - Sorry!
P.P.S. Big thanks to Lisa for writing this post!